iVMS 4500 HD for PC.
With this application, you can remotely monitor embedded IP cams, DVRs and NVRs. It does not require any wires and cables to work. iVMS 4500 HD just needs a wireless internet connection. You will see a live preview of the camera in HD video quality. Other than live streaming you can playback recorded files with PTZ control. View Playback and Live videos in Portrait as well as Landscape mode. iVMS 4500 HD manages multiple cams at the same time. Now you don't have to use a separate app for every IP cam.
Check another IP cams App: SuperLive Plus for PC (Windows 10 – Mac OS)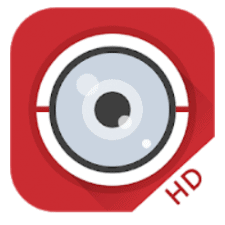 Video Playback and Motion Detector
iVMS 4500 HD includes Video Playback and a motion detector feature.  All live videos are saved in the app. You can store saved videos in cloud storage as well. It will play any previous video of the cam easily. If this app detects motion in the live video then it will take a real-time snapshot. Moreover, iVMS 4500 HD also notifies users with a notification alarm. Click on the notification in order to view live video.
Check another IP cams App: MR Patrol for PC – Step By Step On Windows & Mac
How to Use iVMS 4500 HD?
Same as iVMS-4500 for PC, you can use iVMS 4500 HD. All you have to do is to enter the information of the cam. Enter required files like Device Name, Port Number, IP address of the cam and log in with Username/Password. Make sure that you are registered on the HIKVISION HQ server. Internet connectivity is compulsory for this app. Without WiFi, 3G, 4G, or an LTE connection you won't be able to see live HD video streaming of the cam. Other features of the hikvision app include video zooming, HD audio, screenshots etc.
Check another IP cams App: WYZE App for PC, Windows 7/8/10
How to Download iVMS 4500 HD for PC
Time needed: 10 minutes.
Installing ivms-4500 HD on PC is not as easy as it is on Android. That's because Windows 10 cannot download apps from the Google Play Store. So, we need to get help from third party software.
See the instructions below to install ivms-4500 HD on Windows:
Step 1: Download and Install Android Emulator
We have a number of Android emulator for Windows that we recommend. BlueStacks is probably the best and the emulator we use. Firstly, download Bluestacks from here. Next, open the downloaded files and run set up.
Step 2: Bluestacks Configuration
BlueStacks works like an Android device on your PC. open BlueStacks when it's installed and log in with Google account. All your Paid and already installed app will be there.
Step 3: Install ivms-4500 HD on PC Through Bluestacks
Now write ivms-4500 HD in search, it will appear in Google Play Store. Click to install the app. the ivms-4500 HD will take some time to download.
Step 4: Find The App
Go back to the main menu in BlueStacks or on the system desktop there is an icon with the name of ivms-4500 HD. Double click on it and start using the app.
FAQ
Q: What is ivms-4500 HD?
A: Ivms-4500 HD is a leading IP camera application that connects with IP cams and lets you view live feeds and control them.
Q: Is ivms-4500 HD for PC available?
A: While there is no official Windows app, you can download ivms-4500 HD by following the instructions in our guide and download an Android emulator.
Q: Is ivms-4500 HD free?
A: All features and app downloads are free in ivms-4500 HD.